Enter your travel dates to find the best deals
on Pullman Baiyun Airport Guangzhou:
Pullman Baiyun
Airport Guangzhou
Pullman Baiyun Airport is located within Guangzhous new airport complex, 30 kilometres from the city centre. The hotel is of contemporary design and features 460 rooms, 4 restaurants, 3 bars, 2 tennis courts, a fitness centre, sauna, spa and heated swimming pool. State of the art conference facilities are also available for up to 500 delegates. Guangzhou is the historic capital of Guangdong Province and is only two hours by train from Hong Kong.
Room amenities:
Air conditioning – Bath tub – Bathrobe
Cable TV – Data port – Electronic key system
Free daily newspaper – Hair dryer in room – High speed transmission line
Make up mirrors – Message alert – Radio in room
Safety deposit box – Satellite TV – Slippers
Smoke detectors – Sound proofed – Sprinkler and smoke detectors
Telephone in bathroom – Television – Turn down service – Voice mail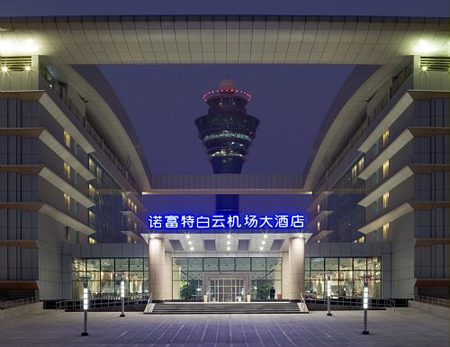 Pullman Baiyun Airport Guangzhou – contact details
Baiyun International Airport, Renhe Town, Guangdong Province
Guangzhou, 510470 China
Telephone: +86 (20) 36068866
Fax: +86 (20) 36068899